Somao, the "indiano" village from Pravia
*Indiano, meaning the Asturian people, who went one day to luck for fortune in the Americas, as emigrants.
---
Somao is in the limits of Pravia's municipality very close to Muros de Nalon, capital of the municipality bearing it's same name, where you can find San Esteban de Pravia, important sea port in the past, Jovellanos wanted to benefit it, with a rail road which could united it to the center of Asturias and its mining.
This sea port was the gate from where so many "indianos" left Asturias, in the way to the Americas, in search of fortune. Somao which is some 10 KMs from this port of Muros de Nalon, sent many people to the emigration, during this period of time, they went mostly to Mexico and Cuba. Years later they returned to their home towns, some with more, some with less money, some others sent money from the other side of the sea, trying to improve the level of life in their hometowns, and of course, stimulating at the same time others to become "indianos". All this added in benefit of the town, having new schools sponsored by the indianos, great houses, with cementeries inside their premises, and even hotels as Aurelio de Llano Roza de Ampudia in his book "Beauties of Asturias, from East to West." (1928). (Bellezas de Asturias de Oriente a Occidente) "Around Muros there are many fruit-gardens and well taken care orchards. After passing by Somao, with its many hotels, our sight reaches the vast landscape of not very rich land." Which gives us idea, of the reason why this town had so much emigration.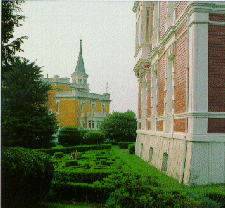 Valentin Andres Alvarez, in his book, "Asturias, Ed. Lebrija, 1978, states, "That to speak in a correct manner, we have to correct a mistake, Asturias, does not end in the geographical limits of the map of Spain, it is much more than this. Asturias is a great part of Madrid, where there are more than 70.000 (seventy thousand) Asturians, and a great part in Cuba, Argentina and Mexico, a quarter in New York, and most of the city of Tampa in Florida, to mention some. If we think of the number of Asturianos around the world and their riches, we realize that Asturias, has as much outside it geographical limits, as maybe inside. We could be sure that if one day all the Asturianos, of the planet earth, could realize the dream of coming back to the Tierrina, they would not fir inside, and we would have to enlarge the cities, the number of towns and villages, and if they brought back their fortunes, Asturias would then be, not only the most populated, but the richest."
---
Copyright © 1996 J. Luciano Mdez. Muslera luciano@muslera.com
---